What makes this group of fans so different from all the others?
It's simple… we are fans of
"Clay Aiken".
He makes the difference.

Clay is a unique artist, a true idol, a human being with great virtues and talents. Through the years he has inspired us with his good deeds, his authenticity, tenacity, wit, honesty, charisma, humility, and he has turned us into what we are now: a group of loyal, sincere, dedicated, patient, modest, friendly, caring fans; unified and willing to help each other, and devoted to a common cause.
The qualities of Clay Aiken's fans are countless and that is the reason I am so proud of being part of this group.

I love all the fans that I've got to know who I have been able to share and become friends with even though we have never seen each other, and despite the geographical distance as well as language and cultural differences. They are all amazing human beings.
"There is nothing better than being a fan of Clay Aiken".
Thanks Clay for your music,

for touching my life since 2003 to this date, for being as wonderful as you are and for letting me meet this group of people and become part of it which makes me feel very honored.
Note:
I am not a writer; I would like to do it better. I just want to share how proud I am of being a fan of Clay Aiken and belong to that terrific group called Claymates, Clayfans or whatever name they want to give us… Fans of Clay Aiken.
Rossy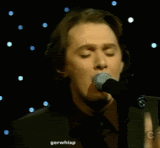 Thanks Elizabeth for the translation.